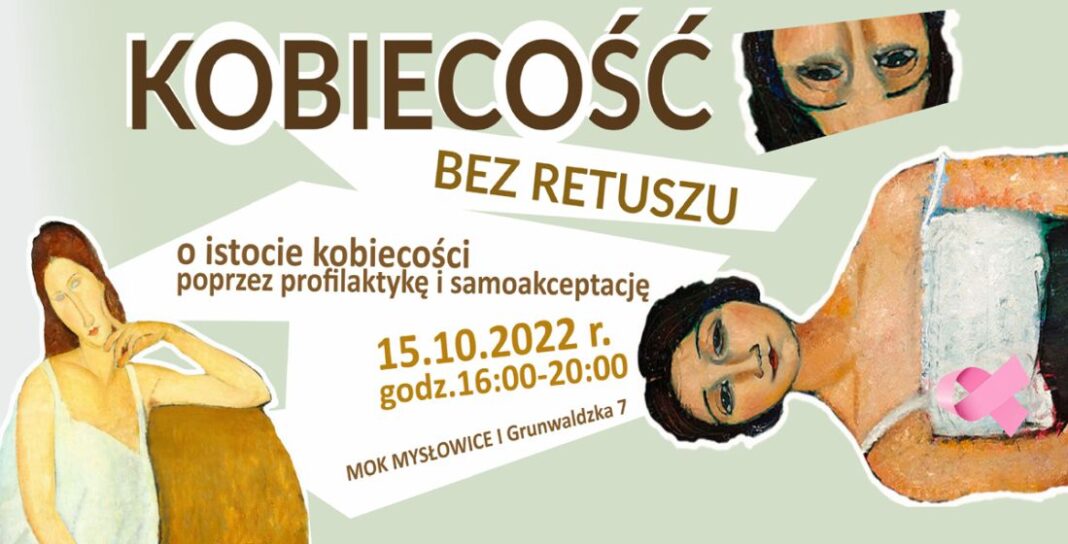 Dear ladies! There has never been such an initiative in our city. Soon a truly feminine event will take place in Mysłowice: "Femininity without retouching. On the essence of femininity through prophylaxis and self-acceptance".
During the women's vacation at the Mysłowice Cultural Center, a group of active, creative and conscious women for whom health, prevention and natural femininity are important and inspiring will meet.
– We want to show that we are precious and beautiful just as we are – despite various imperfections. Each of us is different, but we are connected by our experiences and our passions. On this day, we are united by the fact that we are women who want to be healthy and natural. We often complain about the lack of time to take care of ourselves, we often tend towards an ideal that does not exist, except on social networks. Let these "evils" far behind and ahead! – the organizers encourage.
Scheduled event:
time. 4 p.m. – opening of the passage of the female enterprise – presentation of stands / conferences / advice,
time. 5:00 p.m.-7:30 p.m. – scenic program (conferences and presentations):
introduction: idea / inspiration / object of the meeting / partners,
a small conference on body positivity,
Marta Małek – conference "The lower pelvis – the essence of femininity",
Kasia Garza / Dietetyki Studio – presentation "Anti-inflammatory diet – female hormone support",
underwear fashion show + little bustoeducation lesson – brafitting according to Katarzyna Zimnik,
Karolina Matlachowska – presentation "A few tips from a professional stylist",
breast self-examination and breast cancer prevention – demonstration and tips,
Anita Rojek – conference "Conscious parenting in the spirit of positive discipline",
Vamos dance performance – Weronika Janowicz,
Patrycja Milic – a short lecture on natural cosmetics,
improvised performance by the group Bez Puenty Impro "Don't come without chocolate".
time. 7:30-8:00 p.m. – draw.
"Feminity Without Retouching" is not a paid event, but you must purchase a donation card to participate. Bricks are products whose entire revenue will be donated to the Support at Start foundation. Types of bricks (your choice):
Bandi Bust Firming Cream (29 PLN),
Organic breast oil (PLN 39),
Izabela Sakutova's book "Love your breasts" (PLN 39.95),
Biological bio-stamp (24.90 PLN),
T-shirt I touch = I win (PLN 89).
Vouchers are available at the Ka_Ja lingerie store (ul. Gen. Ziętka 42) with an entry ticket to the event or on the day of the event at MOK. Each person who buys a donation will participate in the drawing of attractive prizes financed by partners.
The event partners will prepare many attractions on their stands, incl. mini-workshops in ceramics, speech therapy, physiotherapy, educational and parental advice, crafts, herbalism, hairdressing, dietary advice, legal advice, healthy eating and yoga, children's entertainment, language tests, stylist advice, branding, beauticians and a relaxation area. There will also be a pink chocolate stand, the sale of which will be credited to the account of the Pomoc na Startcie foundation. Additionally, stalls with sushi, coffee and sweets will be available during the event. Professional photographers will take pictures on the background of the photo wall and make them available to interested women. Trained nurses will also be waiting on the way, who will show them how to carry out the breast self-examination.
Organizers: Mysłowice Cultural Center and Ka_Ja brafitting salon. The partners: Women's enterprise in Mysłowice, Support at Start Foundation, Izabela Sakutova, Raudi Ceramic Studio, Educational and Therapeutic Center "Basałyk", Marwen – jewels of nature, Cotton Lake Magda Babicz, Rozkoszna Zielarnia, Balonove, Hair Sonia, Studio Dietetyki Katarzyna Garza, Marriage Legal Skirmishes, Amarantus Shop and Cafe, Anita Rojek – Nursery Owner, Positive Discipline Educator, Level Up Language School, Dar-Ja Studio Yoga and Fitness, My Handicraft, Hocki Klocki – Playroom, MS Projekt Wnętrz, Patrycja Kamela Fotografia, Pracownia Natury, Sō Sushi Mysłowice, Karolina Matlachowska – stylist / image designer, Caffe Artnova, Weronika Janowicz – trainer / dance teacher, minimoweb.pl, Dronove – film services, Tiande Silesia.
October 15 at 16:00-20:00, Mysłowice Cultural Center at ul. Grunwaldzka 7. Introduction: purchase of a donation card.
MOK press release